Ash Ahmad
Diversity, Wellbeing and Inclusion Trainer / Strategist / Consultant
Creating safe spaces for organisations to have open discussions and help create meaningful and lasting change where all individuals feel a sense of true belonging.
My purpose and passion are to create a space for individuals and organisations where people are at the heart of the business and individuals can thrive in their careers because the diverse and inclusive environment in which they belong allows them to be their true authentic selves.
I help organisations create an inclusive work environment through various training and strategic planning. Diversity and Inclusion topics can be sensitive and triggering and I have been known for creating safe spaces where people feel comfortable sharing their experiences without judgement.
Training and Workshops
I offer bespoke training sessions on various topics including Diversity and Inclusion, Wellbeing and Inclusive leadership. Topics include; authentic leadership, Introduction to Diversity and Inclusion, Imposter syndrome, Importance of self-care, Inclusive workplace. These topics can be quite triggering, therefore I ensure I create a safe environment for all participants to be open and candid conversations in order to bring about real positive change. Please be aware that each session is tailored to the clients needs. Get in touch for a complimentary introductory call.
Coaching for Women
If you are serious about taking your career to the next level and are willing to take ownership of life and decisions, are opened to being challenged and willing to step out of you comfort zone, then I am the person to help you do that. I am not here to make decisions for you, I help you take ownership of your goals, visions and dreams and work towards overcoming any barriers that may be stopping you from achieving them. If you want to know more then book a free consultation session with me to find out if I am the right person for you.
Strategic Planning
I recognise every organisation is different and the one size fits all approach does not work. I partner with organisations to understand where they currently are in their D&I journey, and I provide guidance and ongoing support to achieve organisational goals relating to Diversity and Inclusion. My aim is to ensure that diversity and Inclusion is not handled as just a tick box or a 'one and done' but a journey where organisations are continuously evolving and improving to create a culture where all employees feel a sense of belonging. Please get in touch to book a consultation to see how I can help you on your D&I journey.
Audit and Recommendations
My HR background allows me to support organisations with their policies and procedures to ensure they are inclusive and fair to all employees. I approach policies ensuring they are clear and accessible for all individuals and help clearly identify the roles of key stakeholders in order for the successful implementation of the policy.
Public Speaking
I am available for public speaking events particularly focused around women in business, mental health issues and diversity and inclusion. I often share experiences from my own personal journey to make meaningful connections with my audience. Please get in touch if you would like for me to speak at your event.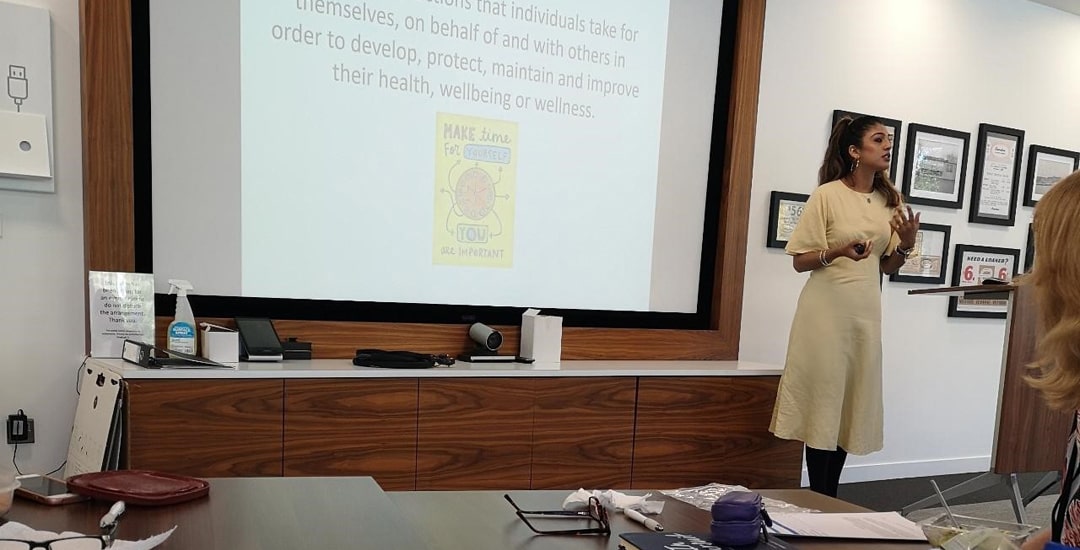 About Me
I am a versatile and accomplished DE&I and Wellbeing Consultant and CIPD qualified individual with over 10 years' experience in a breadth of functions including Diversity & Inclusion, Training & Development and HR.
I inspire others by sharing my own experiences as a female, South Asian, Muslim woman and often a minority within my spaces, which has allowed me to truly connect with people in particularly those from underrepresented groups. I help organisations and individuals to be open and vulnerable and their true selves, because I believe when you are YOU, you thrive in any given context.
My "why" is to create environments where people feel like they belong, are compassionate towards one another to help workplaces and society become a better place.
I am a decisive leader and problem-solver with excellent organisational and communication skills, and a wealth of experience in liaising with and working alongside senior leadership.
"Passion and dedication are two qualities that stood out about Ash the first time I met her several years ago. Her enthusiasm for helping others with their blind spots and for supporting inclusion at work is commendable. I was particularly impressed with her openness around her personal experiences which is a huge asset when working in the DEI field. I have no hesitation in recommending Ash and am confident she will have every success in her new role".
Leigh Lafever-Ayer (she/her/hers)
HR Director, UK and Ireland
"Ash is a great business partner. She prepared and led my team's Leadership Development Series training over the course of six months resulting in the implementation of several new initiatives among the team. And more recently, she and I have partnered to promote Diversity, Equity and Inclusion initiatives across our UK business. Her passion, commitment and dedication to these initiatives is inspiring, and I value our collaborative partnership".
Jim Stoeppler
Vice President, European Brand Marketing at Enterprise Holdings, Inc.
"Inspirational speaker around diversity and inclusion. Spot on delivery at our system health and care inclusion session by bringing lived experience to the fore and enunciating the importance of authentic leadership and true self. Highly recommend Ash – role modelling compassionate and inclusive leadership all the way".
Shajeda Ahmed MA FCIPD
Executive Director of People, Organisational Development & Inclusion at North Staffordshire Combined Healthcare NHS Trust
"WOW! What an awesome session! Thanks so much Ash for such a passionate and insightful talk, especially code switching".
Anonymous attendee in webinar
"Very thought provoking Ash – your passion really shines through. Extremely complex – interconnected subject matter. Thank you for sharing your experiences".
Anonymous attendee in webinar
Companies I've Worked with