ASH AHMAD
Diversity, Equity and Inclusion Consultant/Coach/ Strategist/Speaker
Creating safe spaces for organisations to have open discussions and help create meaningful and lasting change where all individuals feel a sense of true belonging.
My purpose and passion is to create an environment for individuals, particularly those from marginalised groups by working with organisations to break down systemic barriers that have prevented them from thriving in the workplace.
Diversity, Equity and Inclusion topics can be uncomfortable, sensitive and triggering and I have been known for creating safe spaces where people feel comfortable sharing their experiences without judgement.
Training and Development
I offer bespoke training sessions on various topics relating to Diversity, Equity and Inclusion. These topics are designing and delivered bespoke to an organisation needs to ensure participants leave with takeaways relevant to their specific needs. These sessions can be delivered both face-to-face and virtually. The topics can sometimes be triggering, therefore I ensure to create a safe environment for all participants to have open and candid conversations in order to attain sustainable change.
Coaching
I offer coaching for leaders either on a 1-2-1 or a group setting to help them on their journey to lead more inclusively. Many leaders fear of saying or doing the wrong thing which often become the reason why they fail to start on their organisations DE&I journey or aren't really seeing any change with the current initiatives being carried out. I help leaders to overcome their fears and challenges in engaging in DE&I work and help them take ownership and hold themselves accountable to get started on their journey and make meaningful change.
I also offer 1-2-1 coaching for women wanting to take their career to the next level but are challenged with systemic barriers that have resulted in a loss of self-confidence. I help you take ownership of your goals, visions and dreams and work towards overcoming any barriers that may be stopping you from achieving them. If you want to know more then book a free consultation session with me.
Organisational Development
I recognise every organisation is different and the one size fits all approach does not work. I partner with organisations to help them understand where they currently are in their DE&I journey, where they would like to get to and provide strategic guidance and support on what to attain their goals. My aim is to ensure that DE&I is not seen as just a tick box or a 'one and done' but a journey where organisations are continuously evolving and improving to create a culture of belonging for all. Please get in touch to book a consultation to see how I can help you on your DE&I journey.
Audit and Recommendations
My people professions background allows me to support organisations through an equitable lens with their policies and procedures. I also will carry out full audits on processes put in place, including recruitment, onboarding, training and development etc. and provide recommendations to ensure they are fully inclusive of all.
Public Speaking
I am available for public speaking events in a various capacity including keynote speaker, panellist, moderator, podcast guest. I often share experiences from my own personal journey to make meaningful connections with my audience and cover a wide range of topics relating to DE&I. Please get in touch if you would like for me to speak at your event.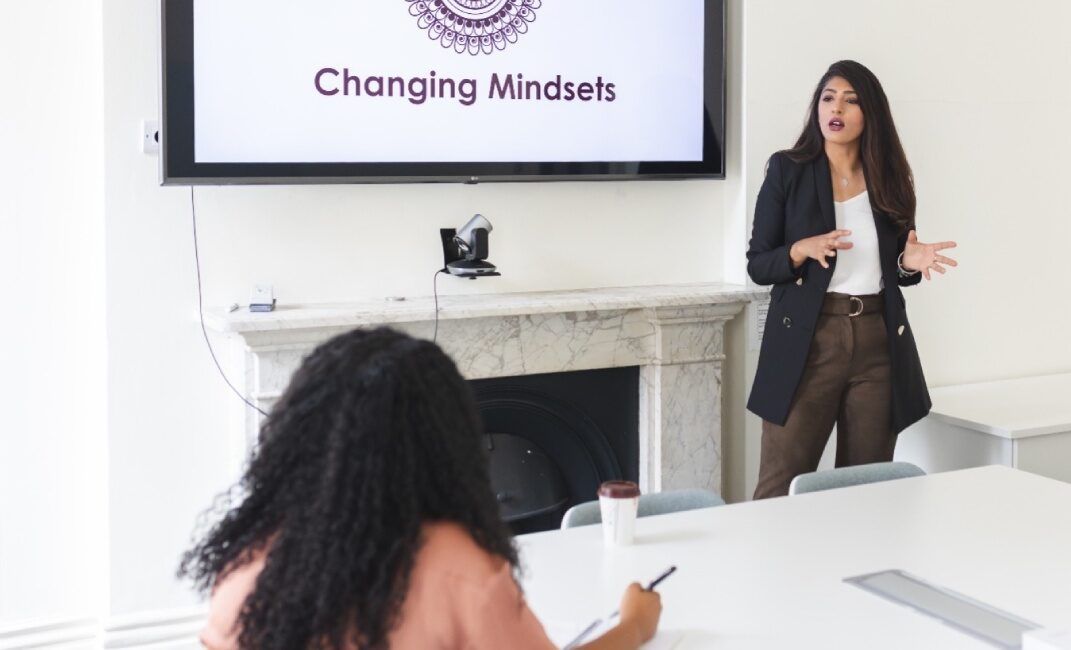 About Me
Ash is a versatile and accomplished DE&I Consultant with nearly 13 years' experience in a breadth of functions including Diversity & Inclusion, Training & Development and HR. She helps organisations create an inclusive and equitable work environment for all, particularly those from marginalised groups through various strategic planning, recommendations and training.
DE&I topics can be sensitive and triggering and Ash has been known for creating safe spaces where people feel comfortable sharing their experiences without judgement. After 10 years of working within the automotive industry, Ash decided to set up her consultancy business Changing Mindsets and has worked with some leading brands including CIPD, NHS, Estee Lauder, Omnicom Media Group and Astra Zeneca and most recently has been the leading subject matter expert for the professional HR body CIPD's first Accredited Chartered Member's Level DE&I programme.
Ash has also been featured in Metro.co.uk, The telegraph, Islam Channel and various other media channels as a DE&I expert and was recognised as an Emerging visionary leader as part of the global Vital Voices partnership with Estee Lauder Visionary Leaders programme, which is a signature program supporting women visionaries who are shaping the future they wish to see: the perception of what defines a leader, and what it takes to become a leader- in their own way.
She inspires others through her lived experiences as a female, South Asian Pakistani, Muslim, working Mum and often a minority within spaces. This has allowed her to truly connect with people, particularly those from marginalised groups. Ash also coaches leaders in leading more inclusively and individuals particularly Muslim women to level up in their careers and lives.
Ash currently serves as a governor for the COE Pyrford Primary School governing body and volunteers as a mentor through various programmes. Ash is often invited as a speaker to discuss topics surrounding DE&I within the workplace as well as sharing her own personal experiences.
"Passion and dedication are two qualities that stood out about Ash the first time I met her several years ago. Her enthusiasm for helping others with their blind spots and for supporting inclusion at work is commendable. I was particularly impressed with her openness around her personal experiences which is a huge asset when working in the DEI field. I have no hesitation in recommending Ash and am confident she will have every success in her new role."
Leigh Lafever-Ayer (she/her/hers)
HR Director, UK and Ireland
"Ash is a great business partner. She prepared and led my team's Leadership Development Series training over the course of six months resulting in the implementation of several new initiatives among the team. And more recently, she and I have partnered to promote Diversity, Equity and Inclusion initiatives across our UK business. Her passion, commitment and dedication to these initiatives is inspiring, and I value our collaborative partnership."
Jim Stoeppler
Vice President, European Brand Marketing at Enterprise Holdings, Inc.
"Inspirational speaker around diversity and inclusion. Spot on delivery at our system health and care inclusion session by bringing lived experience to the fore and enunciating the importance of authentic leadership and true self. Highly recommend Ash – role modelling compassionate and inclusive leadership all the way."
Shajeda Ahmed MA FCIPD
Executive Director of People, Organisational Development & Inclusion at North Staffordshire Combined Healthcare NHS Trust
"WOW! What an awesome session! Thanks so much Ash for such a passionate and insightful talk, especially code switching."
Anonymous attendee in webinar
"Very thought provoking Ash – your passion really shines through. Extremely complex – interconnected subject matter. Thank you for sharing your experiences."
Anonymous attendee in webinar
"I worked with Ash for a couple of years and she was outstanding in her commitment to her training role and to D&I.
Her training was always incredibly engaging and reflective of the passion and work that she put into each class.
Ash was equally excellent in the work that she did for mental health in the workplace and she was always willing to share ideas and engage to fight for those living with mental illness at work. She shared her own personal experiences to help others and as an MHFA was always available to anyone who needed her assistance.
It was a delight to work with Ash – I would recommend her to all!!!"
James Martin
Co-founder and Mental Health and Well-being Director at Walking the Walk
"Ash brings warmth and energy by the shedload in her workshop delivery – alongside practical knowledge, genuine insight and actionable take-aways. It was easy and fun to work with Ash, as she is able to make the process straightforward and simple, from organising logistics to designing the workshop you need. We're looking forward to working with her again!"
Molly Dawson
Researcher at UK Youth
"Ash was my mentor through Muslim Women Connect and she has been a great asset to both my professional and personal development.
Ash provided me with the advice, guidance, and support I needed to work on the confidence I thought I never had. Throughout our mentoring sessions she actively listened, her emotional intelligence allowed us to build a trusting relationship, she helped me prep for interviews but most importantly she believed in me.
It's been a pleasure to be mentored by Ash these last few months but she has definitely become a mentor for life and I can't recommend her enough."
Aisha (Associate CIPD)
Employee Relations Advisor
"Ash is currently CIPD main subject matter expert contributing to the creation of CIPD first accredited programme in Equality, Diversity and Inclusion. Ash's expertise is sure to make this course brilliant and an invaluable resources to people professionals and EDI specialists alike when it'll be available later this year.
This is the first major project I have worked on with Ash and it spans over several months. From the work Ash has done so far, I can say I'm only expecting to hear and see more of her in several public forums championing the EDI cause.
As well as her professional work with CIPD, Ash is very active on LinkedIn promoting balanced, interesting and well explained issues relating to equality, diversity and inclusion. Ash is eloquent in explaining inequalities faced by different groups, often those less understood and represented and she's not afraid to do so publicly, which inevitably brings about negative and, sometimes, unpleasant comments and a level of backlash.
I am privileged to be part of in-depth conversations with Ash on the subject of EDI and she is always ready to share example from her personal and professional life where she has role modelled behaviours that drive inclusion."
Giorgia Quilliam
Learning content manager – CIPD
Companies I've Worked with